Abstract Submission: 22 February 2023
Abstract Acceptance Notification: 1 March 2023
Full Paper Submission: 5 April 2023
Paper Acceptance Notification: 12 April 2023
Conference Dates: 2-3 May 2023

POSTER PRESENTATION
Exhibited in the conference hall and available for questions and discussions.
ABSTRACT ORAL PRESENTATION
FULL-PAPER ORAL PRESENTATION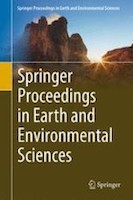 The ESSD2023 Conference proceedings will be published
in
Springer Proceedings in Earth and Environmental Sciences (SPEES) under the title "Engineering Solutions Toward Sustainable Development".
All papers should be submitted directly through the following link. Papers should be prepared according to the author's guidelines and template presented at the conference website.